Home Remodeling Contractors in Lynchburg, VA
Rock Solid Construction, Inc. is your licensed, full-service home remodeling contractor in Lynchburg, VA. We specialize in deck building, porch building, additions, garages, car ports, and basement remodeling. We can also provide solutions for concrete driveways and sidewalks. We are proud to meet your construction needs for your home or business, and we offer quality remodeling and addition services.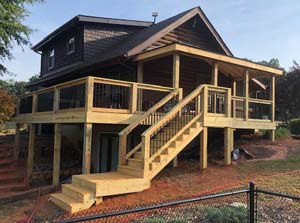 Decks & More
If you're looking to give your backyard a makeover, we are proud to be your go-to home remodeling contractors for any deck or screened in porch conversions. With 40 years of combined experience, Rock Solid Construction has provided the best remodeling and deck building services in Lynchburg, and surrounding area since 2011.
Our services include helping you construct a new addition, remodel your basement, or build a deck or porch. We provide you with quality services at every level, whether it be a simple deck remodeling project or complete home additions.
If you've ever dreamed about waking up and having morning coffee in a sunroom or on the porch, come to us to help your dreams come true. Our home remodeling services are top of the line, and we can help you convert a deck or patio into a peaceful sunroom or screened-in porch. Decks and porches are great additions to any home and give you the opportunity to host company in the beauty and comfort of your own backyard. Contact us today!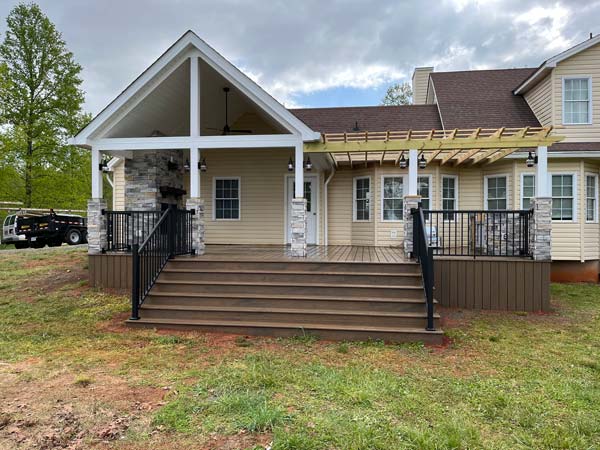 Our customers are consistently satisfied with our level of service because:
We provide quality additions, decks, patios, and basement remodels.
We bring 40 years of excellence to every project.
We stay in communication with you every step of the way.
Rock Solid Construction proudly offers full-service home remodeling to the following areas:
Including the Counties of:
Amherst County
Bedford County
Campbell County
Including the cities of:
Monroe, VA
Amherst, VA
Rustburg, VA
Concord, VA
Appomattox, VA
Lynchburg, VA
Madison Heights, VA
Evington
Timberlake, VA
Forest, VA
Goode, VA
Bedford, VA